Remodel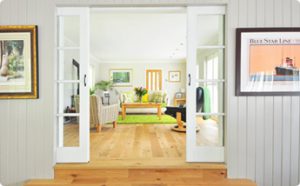 Over the years, your family, hobbies, and obligations will change. The starter home that was perfect decades ago may not be so ideal today. Imagining a renovated home is a struggle for many people, especially for those who have been in their homes for a long time. When you work with a design/build contractor like Thompson Construction, Inc., you get the benefit of working with professional builders who also have a strong sense of design aesthetics.
Good design is the first step to creating a beautifully remodeled house. By listening to your needs, explaining your options and always providing high-quality construction, we are confident we can build a home you'll love.
Over the years, Thompson Construction, Inc. has worked on a wide variety of interior home renovation projects for Sonoma County families. Here are a few examples:
We have done garage conversions to help give growing families more living space.
We have built an artist's studio that provides seclusion and appropriate light.
We have ample experience adding in-law suites for multi-generational households.
We can help you find a new layout for your home if you're finding it too cramped or inconvenient.
If you love your home and your neighborhood, there's no reason to move from a less-than-perfect home. Thompson Construction, Inc. is the contractor you can rely on for the renovations that will make your life better.